IDIOT (GRAD THESIS)
ArtCenter College of Design—MFA Graphic Design, 2018

︎︎︎research ︎︎︎transmedia ︎︎︎book design


TDC Communication Design Winner 2020

A study on contemporary privacy and camouflage, Idiot approaches the notion of concealment and protection through ubiquity. I blurred the boundaries of my own identity by creating a plurality of simulated and simultaneous presences, surrendering my privacy in order to reinstate it.

"I'm losing my idiot state steadily, I'd much rather be an idiot," stated Marshal McLuhan. He refers to the original meaning of the word idiot which derives from the Greek idiōtēs, meaning a very private individual or citizen. The project embraces the word as an ironic reference to its original meaning.
Gesture/Action
The core of the project lies in creating virtual copies of myself and distributing them. For this purpose, I created a 3D model of myself and uploaded it to several online databases where users are able to download and use it for free. Each download serves as another copy—the more downloads the more successful the camouflage. I aim to study the outcomes of this gesture by documenting the model as manipulated by other users.
Model available at:
Sketchfab
/
Cults 3D
---
User: Kostas Nikellis, Digital Artist
User: Mike Alger, VR Designer, Google, Inc
User: Fazel Sayeh, Graphic Designer
User: Mable Chen, Entertainment Designer

---
Wallpaper
Using rendered images of the model that was uploaded, I created a series of wallpapers. I have used the subject (model) as an element that is multiplied to create patterns, thus blurring the boundary between foreground and background.
---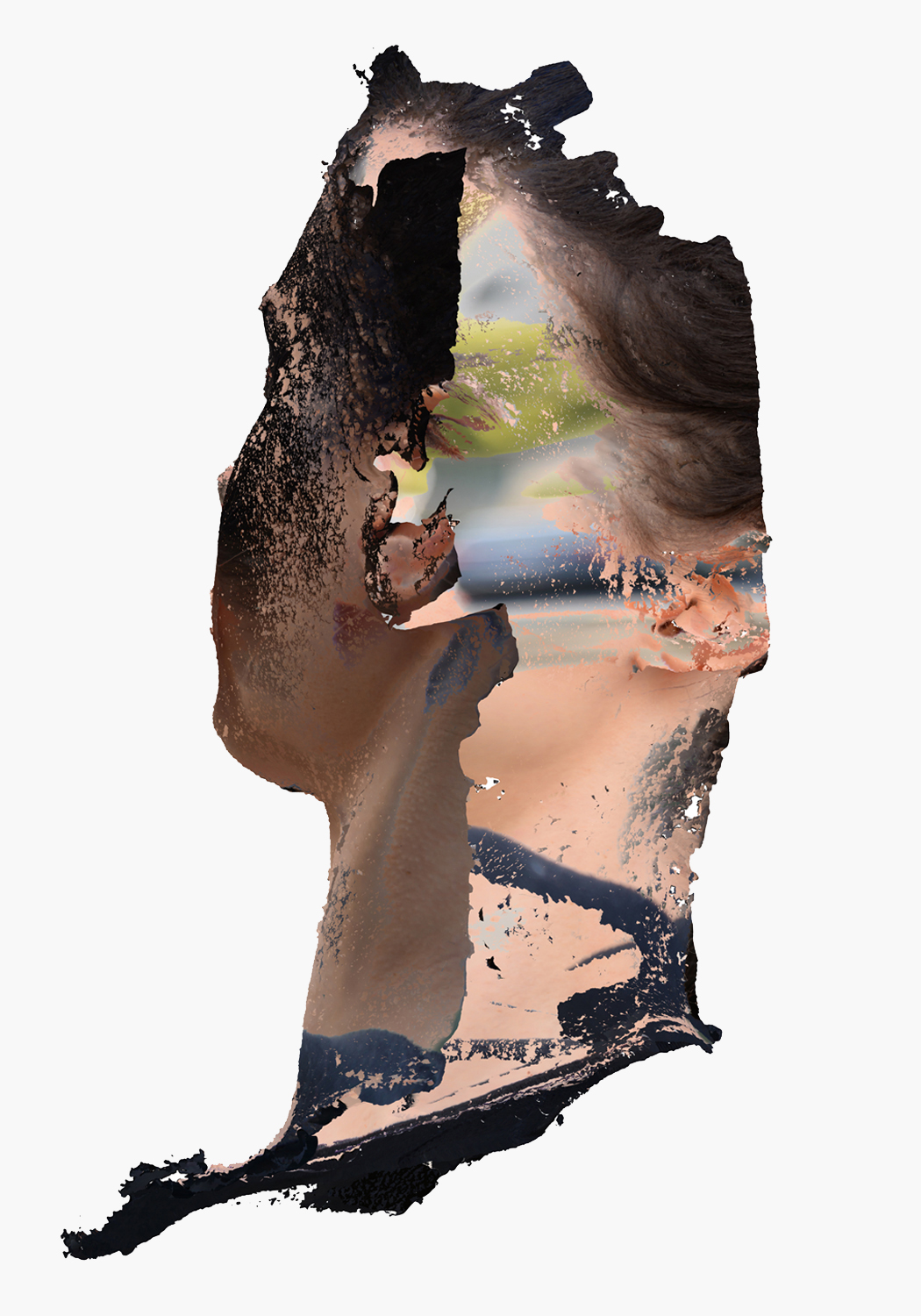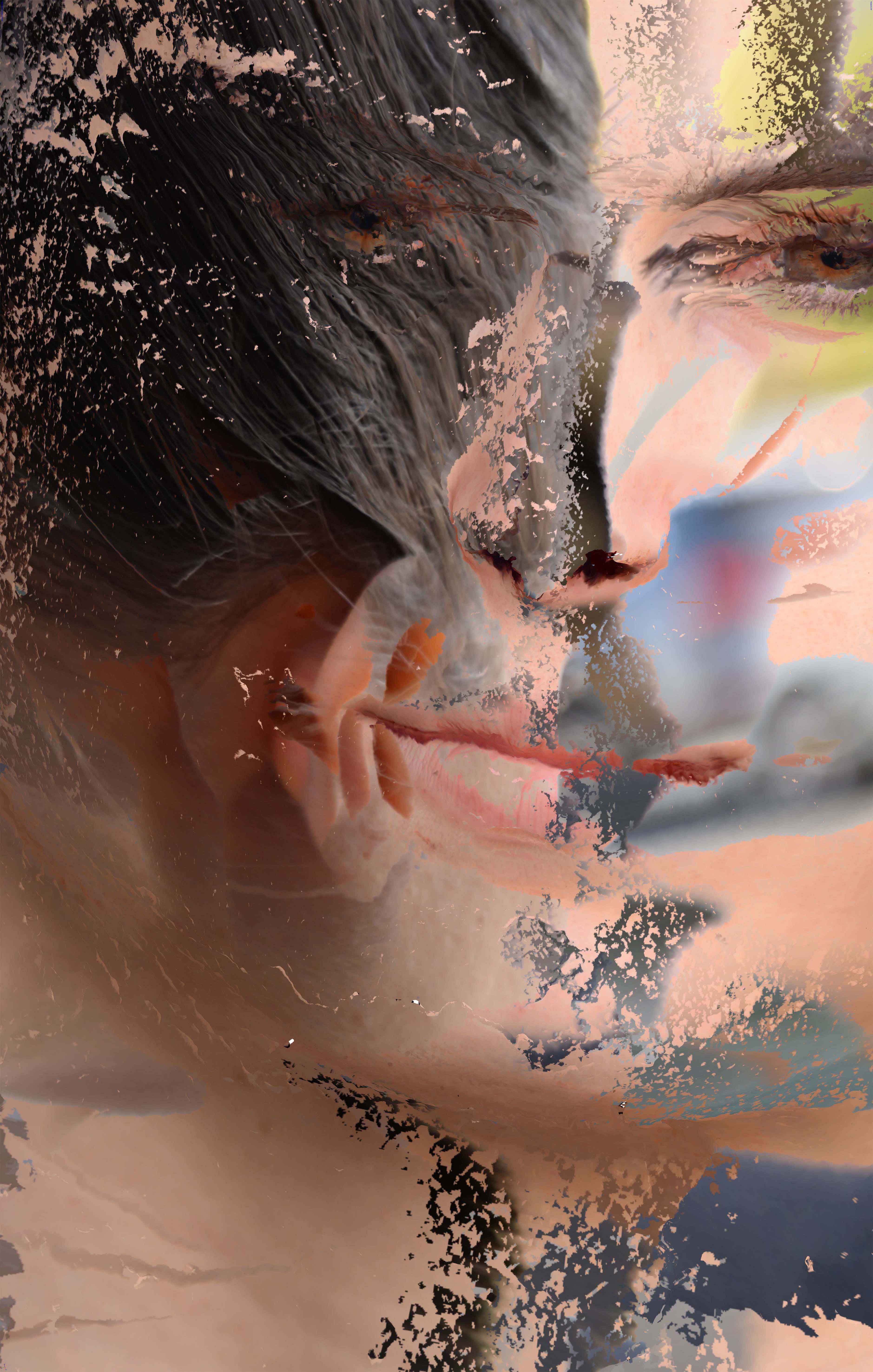 Visual language

These images were created through experimentation with photogrammetry. The relationship of realistic and artificial qualities in these images refer to the uncanny valley theory which suggests that humanoid objects appearing almost like real human beings, elicit uncanny or strangely familiar feelings of eeriness in observers. These feelings mirror how the invasion of privacy dehumanizes people and translates their appearance and actions into information and data.
---
The above studies serve as supportive material to the final delivery of the project concept. There is a photomontage set in my apartment, a CCTV type video montage, and a pattern inspired by envelope security patterns, an early example of how people employed methods of camouflage for privacy.
---
---
Spatial
The spatial component is a large scale installation which covers part of a corridor at the ArtCenter College of Design south campus. Its size is meant to represent the scale of privacy invasion. A monitor forms part of the installation, completing the design pasted on the wall and playing a looped video with an animation that reflects components of the project.
---
Advisors

Carolina Trigo
Simon Johnston


Special Thanks

Matt Adams, Sean Adams, Roy R. Behrens, Mable Chen, Clint Disharoon, Samantha Fleming, Nik Hafermaas, Jessica Helfhand, Eric Heiman, Hsuan Hsu, Annie Huang, Rachel Julius, Michelle Katzlaw, Steve Kim, Kostas Nikellis, Jenny Rodenhouse, Fazel Saye, Alex Seth, Ziyi Xu, Derek Yang
---